Neonatal nurse
Neonatal nurses care for newborn babies who are born premature or sick. A newborn baby can suffer from a range conditions requiring treatment.
Working life
Premature babies have specific problems such as respiratory difficulties or nutritional needs that can be life threatening. You'll be a crucial part of the team that ensures that treatment is given promptly and appropriately by a team.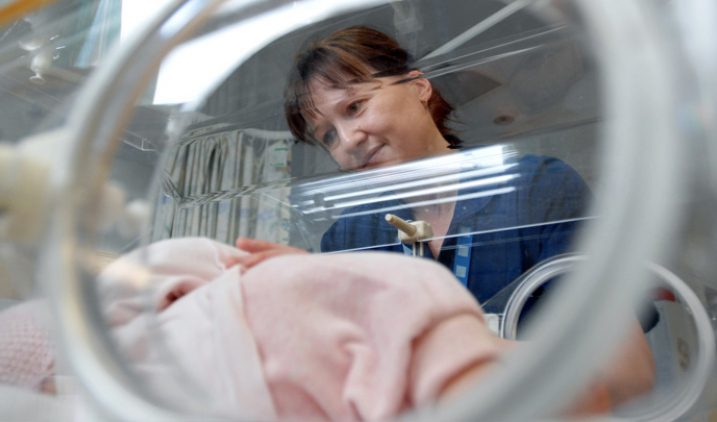 You'll also have an important role in supporting the parents of the baby at a time when they themselves are very anxious and stressed. You'll also encourage them to take an active role in the care of the baby.
You'll have a range of tasks that will include: 
•    preparing and checking medications
•    managing a baby's fluids 
•    recording observations and documenting a baby's care
•    initiating appropriate basic resuscitation in an emergency situation.
Where will I work? 
You'll provide 24 hour care in acute hospitals. You'll work shifts in intensive care, high dependency and special care baby units. Some nurses work in the community, providing continuing care and support for babies and their families who have been recently discharged from hospital. You'll work with a range of professionals such as paediatricians, dietitians, midwives and other children's nurses.
Entry requirement and training to be a neonatal nurse 
You need to be a registered adult nurse, child nurse or midwife to apply for a job as a neonatal nurse. Some employers may ask for experience or knowledge of neonatal nursing issues eg. handling bereavements or related areas, for example breast feeding. After a period of six months of relevant experience, you'll be encouraged to undertake professional development. This will usually involve specific training modules on different aspects of neonatal nursing. These are delivered in partnership by your employer and local universities. They might be online, offering the opportunity for distance learning.
Want to learn more? 
Pay and conditions

Expand / collapse

Most jobs in the NHS are covered by the Agenda for Change (AfC) pay scales. This pay system covers all staff except doctors, dentists and the most senior managers. Neonatal nursing jobs usually start at band 5 but there is opportunity to progress with more experience. Neonatal nurses in the NHS will usually work standard hours of 37.5 per week. Terms and conditions can vary for employers outside of the NHS. 

 

Where the role can lead

Expand / collapse

Job market and vacancies

Expand / collapse

There are estimated to be over 5,000 neonatal nurses in today's NHS workforce. The role is currently on the UK national shortage occupational list and job opportunities will continue to grow. Most NHS organisations advertise their job and apprenticeship vacancies on NHS Jobs, including those who run NHS services. Some advertise on their own websites. You can find a list of NHS organisations at NHS Choices. 

If you're applying for a role either directly in the NHS or in an organisation that provides NHS services, you'll be asked to show how you think the values of the NHS Constitution apply in your everyday work. Find out more about NHS values. 

Further information

Expand / collapse
Other roles that may interest you