Prison nurse
Prison nurses do a similar role to nurses working in general practice but with a greater focus on mental health problems and substance misuse.  
This page has information on being a prison nurse and links to further information.
Working life 
As your role would be similar to that of a general practice nurse, you will undertake a number of similar tasks including: 
obtaining blood samples
minor and complex wound management including leg ulcers
women's health including cervical smears
men's health screening
smoking cessation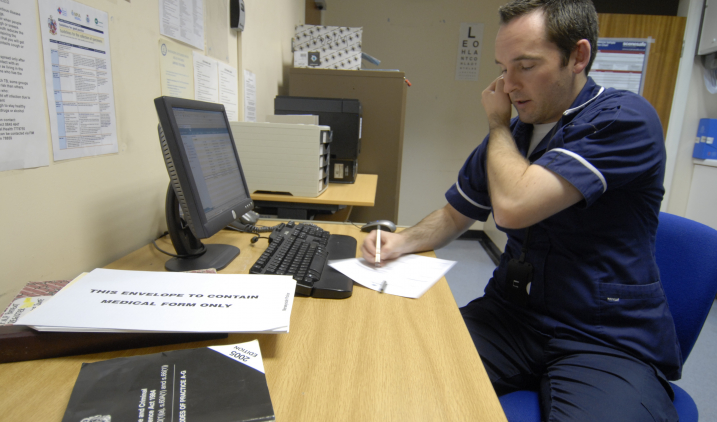 You'll also be working with people who have a higher concentration of mental health and substance misuse problems. This may mean offering support to patients who are at greater risk to themselves or others than those seen in GP surgeries. You may also offer support to doctors performing minor surgery. 
Where will I work?
Prison nurses employed either directly by the prison service, by the NHS or by organisations delivering services on behalf of the NHS. You may work in open prisons, high secure units, women's prisons or young offenders' institutes. 
You are likely to work within a general practice setting within a prison. You'll work with a range of other professionals including GPs and other doctors, pharmacists, psychological therapists and prison staff.
Entry requirements 
To work as a prison nurse, you need to be qualified, registered nurse, preferably in adult, mental health or learning disabilities. You may be asked for experience, knowledge or an understanding of the criminal justice system or custodial environments in relation to your role as a prison nurse. 
Want to learn more?
Pay and conditions

Expand / Collapse

Most jobs in the NHS are covered by the Agenda for Change (AfC) pay scales. This pay system covers all staff except doctors, dentists and the most senior managers. Prison nurses in the NHS will usually start at band 5 and work standard hours of 37.5 per week. Many prison nursing jobs will be outside of the NHS, such as the National Offender Management Service, where terms and conditions can vary. 

Where the role can lead

Expand / Collapse

Job market and vacancies

Expand / Collapse

Most NHS organisations advertise their job and apprenticeship vacancies on NHS Jobs, including those who run NHS services. Some advertise on their own websites. You can find a list of NHS organisations at NHS Choices. Vacancies for nurses employed directly by prisons are advertised on the National Offender Management Service website. You may also find vacancies in the nursing press and recruitment websites.For general information about employment within the prison service, contact your human resources department or the nursing adviser at your local prison. 

If you're applying for a role either directly in the NHS or in an organisation that provides NHS services, you'll be asked to show how you think the values of the NHS Constitution apply in your everyday work. Find out more about NHS values.

Further information

Expand / Collapse
Other roles that may interest you