Prison nurse
Nurses working in prisons provide similar services to those who work in a GP practice, as well as integrated mental health and substance misuse services.
You will work in a unique and diverse environment, often delivering the many of the nurse-led services that are provided in the wider community. Prison nurses provide holistic care across the whole patient journey.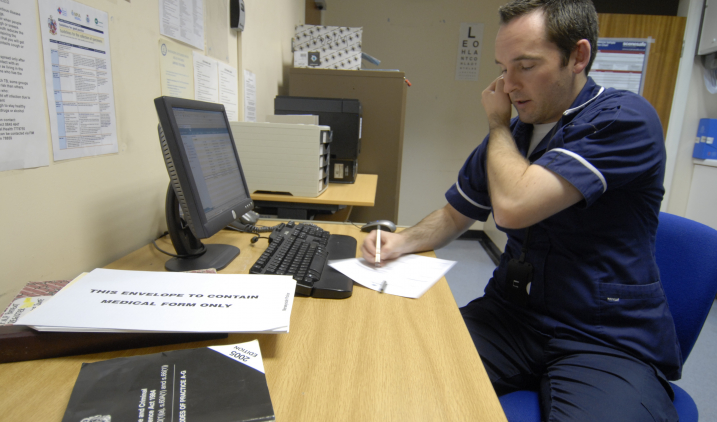 This page has information on being a prison nurse and links to further information.
Working life 
Working in a challenging, multi-faceted environment like a prison, you'll deliver holistic and compassionate care to a complex community with varying needs. The role offers versatility as you'll pick up additional skills to develop your knowledge and skills base.
The types of work you may do could include:
minor injury and illness
long term conditions
end of life/palliative care
substance misuse
emergency and unscheduled care
social care
health assessment
mental health
in reach and outreach specialist services
nurse consultation clinics
clinical governance
safeguarding
Within prisons, there is a higher prevalence of mental health and substance misuse disorders. This may mean offering support to patients who are at greater risk to themselves or others than those seen in GP practices.
Where will I work?
As a prison nurse, you could work directly for the NHS or be employed by a private healthcare provider delivering services on behalf of the NHS. Prisons are divided in to various categories, including: 
open prisons
high security estate
resettlement and training establishments
female estate
young offenders' establishments.
Some prisons have history and are housed in old listed buildings, stately homes and former armed forces bases, while some are new and modern. Within these secure settings you could work on a residential unit, attend emergency responses or work in a dedicated healthcare unit.
Your patients may have diverse cultural backgrounds and you will work with vulnerable people with complex health needs.
You'll work alongside a multi-disciplinary team of other professionals including GPs, pharmacy teams, support workers, dentists, podiatrists, physiotherapists, paramedics, psychological professionals, psychiatrists and prison staff.
Entry requirements 
To work as a nurse in a prison you'll need to be a qualified, registered nurse and hold a current registration with the NMC. Training will be provided to help you adapt to this unique environment. There is no specific qualification required to enable a nurse to work in a prison. Informal visits are encouraged, so contact the relevant healthcare provider for the prison site for further details.
Anyone applying to work within a prison will go through an enhanced prison vetting process. 
Want to learn more?
Pay and conditions

Expand / collapse

Most jobs in the NHS are covered by the Agenda for Change (AfC) pay scales. This pay system covers all staff except doctors, dentists and the most senior managers. Prison nurses in the NHS will usually start at band 5 and work standard hours of 37.5 per week. Many prison nursing jobs will be outside of the NHS, such as the National Offender Management Service, where terms and conditions can vary. 

Where the role can lead

Expand / collapse

There are several routes for prison nurses to further their careers. These include opportunities in management, education and research. You may want to specialise in a specific area of prison nursing such as mental ill health or substance misuse. You could also move into more senior roles within the prison service or GP practices. 

More information on training and development in prison nursing.

Nursing careers resource

A careers resource has been jointly developed by the Royal College of Nursing (RCN) and Health Education England (HEE) to help registered nurses and the clinical support workforce plan their health careers effectively. It shows different ways that you can develop your career from a band 5 role with case studies, videos and next steps.

Visit the RCN/HEE careers resource for registered band 5 nurses

Job market and vacancies

Expand / collapse

Most NHS organisations advertise their job and apprenticeship vacancies on NHS Jobs, including those who run NHS services. Some advertise on their own websites. You can find a list of NHS organisations on the NHS website. Vacancies for nurses employed directly by prisons are advertised on the National Offender Management Service website. You may also find vacancies in the nursing press and recruitment websites.For general information about employment within the prison service, contact your human resources department or the nursing adviser at your local prison. 

If you're applying for a role either directly in the NHS or in an organisation that provides NHS services, you'll be asked to show how you think the values of the NHS Constitution apply in your everyday work. Find out more about NHS values.

Further information

Expand / collapse
Other roles that may interest you