Clinical associate in psychology
Clinical associates in psychology (CAPs) provide psychological interventions under the supervision of a fully qualified practitioner psychologist. 
You'll work with a specific population, supporting people who have longstanding and complex difficulties and use psychological theory and evidence to find the best interventions to meet their needs. You will also be involved in service evaluation or research.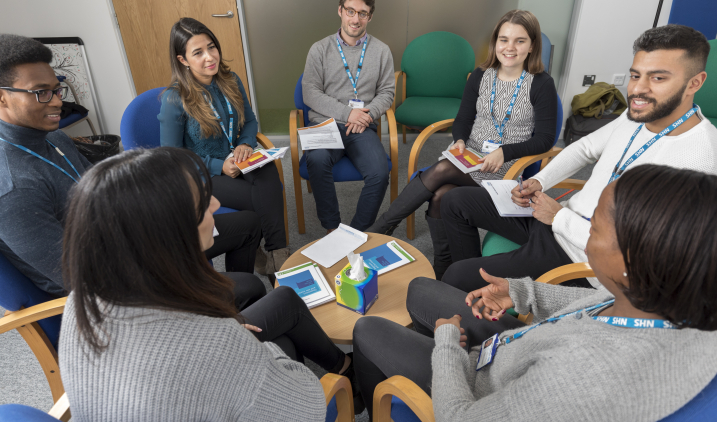 Working life
You'll work alongside a range of psychological professionals and other disciplines to provide people with access to psychologically informed mental health and wellbeing services. 
By creating a psychological formulation - a simplified 'map' of how different aspects of a service user's problem fit together and what could be keeping it going - you will develop a picture of the service user's difficulties. Based on this, you will provide effective and evidence-based psychological interventions that are appropriate to their needs, in the context in which they are experiencing distress. 
You will conduct research and use tools to evaluate psychological interventions and improve the quality of clinical practice. You will also provide support, guidance and training to others in order to inform psychological interventions across a range of service settings. 
You will work autonomously with support and under the supervision of a practitioner psychologist. Supervision will support you to engage in self-reflection, seek and respond to feedback, and develop your professional knowledge and skills. 
Who will I work with?
As a clinical associate in psychology you will work with specific populations. For example, you might work in children and young people's services or adult mental health services, depending on the area you have trained in.
You will likely work in a multi-disciplinary team, alongside a variety of professionals from different backgrounds, such as clinical/counselling psychologists, psychological therapists, community mental health nurses, wellbeing practitioners, social workers, occupational therapists, psychiatrists, support workers, employment specialists and peer support workers.
Where will I work? 
You are likely to work in one or several of the following:  
community mental health teams  
hospitals or inpatient settings
secure or medium secure mental health settings
specialist mental health services
Entry requirements and experience needed 
You will need either: 
a degree in Psychology recognised by the British Psychological Society for Graduate Basis for Chartered Membership
or to have completed a British Psychological Society-accredited postgraduate psychology conversion course
You will also need experience (paid or voluntary) of working in health, mental health, and/or psychological service settings.
Training 
Training involves a Level 7 degree apprenticeship hosted by an employer, such as an NHS trust, alongside training on a university validated degree programme. The CAP apprenticeship is an 18-month full-time training programme divided between work-based experience (up to four days a week) and academic teaching and study, which leads to a Master's qualification. 
The apprenticeship includes elements of theory, research and practical skills and will qualify you to work as a practitioner in NHS services. Opportunities to apply for CAP apprenticeships are led by employing healthcare organisations, and advertised on the NHS Jobs website. 
Pay and benefits 
Whilst working as a clinical associate in psychology apprentice you will be paid at AfC Band 5. After completing the apprenticeship you will be paid at Band 6. 
Where the role can lead  
The clinical associate in psychology role is a new and exciting psychology career opportunity that is helping to enhance diversity in the workforce, developing skills focused on intervention and service needs and improving access to psychological interventions for those with complex mental health needs.
It's a fulfilling role in itself, but you could move into related fields such as psychological therapy and applied psychology.
If you start NHS-funded training from April 2022, you will normally be unable to access further NHS-funded training for a new occupation in the psychological professions until two years after your qualifying exam board. Visit the
funding for psychological professions training programmes web page
for more information on NHS funding.
Other roles that may interest you