Family and systemic psychotherapist
Family and systemic psychotherapists work with groups and families to assess and treat a wide range of psychological and relationship difficulties in emotional, mental and physical health.
You may work with a specific group of people such as children and young people, adults or people with learning disabilities.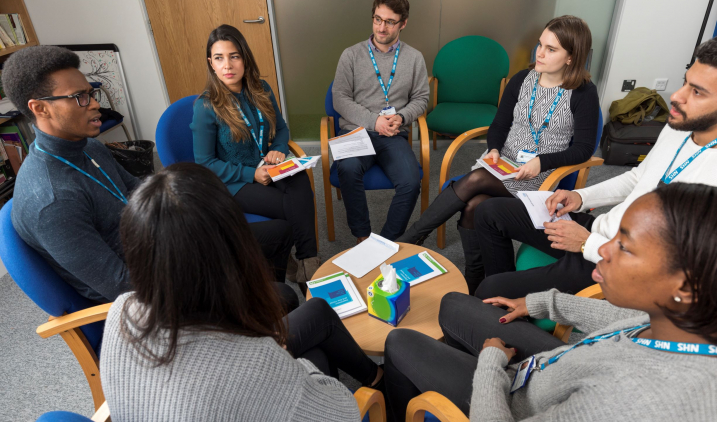 Working life
You may use family and systemic psychotherapy in a particular work setting such as mental health or social care. 
Family and systemic psychotherapists provide therapy for whole families, parts of a family, individuals and couples, as well as working with teams and services.
You will provide supervision and support to other professionals and teams, and also develop services and carry out research. 
You are likely to work in a range of different services, including hospitals and community teams. You'll also work in a multidisciplinary team with many other professionals.  
To practise as a family and systemic psychotherapist, you'll need to undertake appropriate recognised training. You must have a clinical qualification such as clinical psychology, social work, psychiatry or mental health nursing.
You'll also need substantial work experience that relates to the field of psychotherapy and an ability to reflect on your own life and relationships.  
Family and systemic psychotherapy training is by a taught Master's degree or doctorate. This postgraduate training will usually be part time while you continue in your current job role.
A unique aspect of training in family and systemic psychotherapy is a 'live supervision' element. This provides the benefit of your clinical supervisor observing your work to guide your learning and skill development.
You will also complete research, teaching and personal development components. 
Newly qualified family and systemic psychotherapists are often employed at Band 7 on the NHS Agenda for Change pay scale. There may be opportunities to progress to higher pay bands with further specialisation as well as taking on leadership and management responsibilities.  

As a family and systemic psychotherapist, you may have opportunities to progress into roles where you supervise and lead other psychological professionals, or multi-professional clinical teams. Family and systemic psychotherapists sometimes specialise in particular areas such as eating disorders, or child and adolescent mental health. You may also be able to progress into training others or doing research. Some family and systemic psychotherapists go on to work in very senior level leadership positions. 

If you're at qualifying level and enter NHS-funded training from April 2022, you will normally be unable to access further NHS-funded training for a new occupation in the psychological professions until two years after your qualifying exam board. Visit the funding for psychological professions training programmes web page for more information on NHS funding.
Other roles that may interest you