Donor carer
Members of the public volunteer to give blood, so it can be used when people need transfusions. Donor carers set up a donor centre and welcome donors, making sure they are healthy and that their blood is suitable.
This page has information on the role of donor carers, including entry requirements and skills needed. 
Working life
The NHS relies on members of the public (donors) giving voluntary donations of blood and blood products. These are stored and used when needed, for example, during surgery or after an accident.
As a donor carer, you'll take blood by inserting a needle into a vein, usually in the donor's arm. You'll then monitor the blood and pack it safely into cool bags for transporting or sending.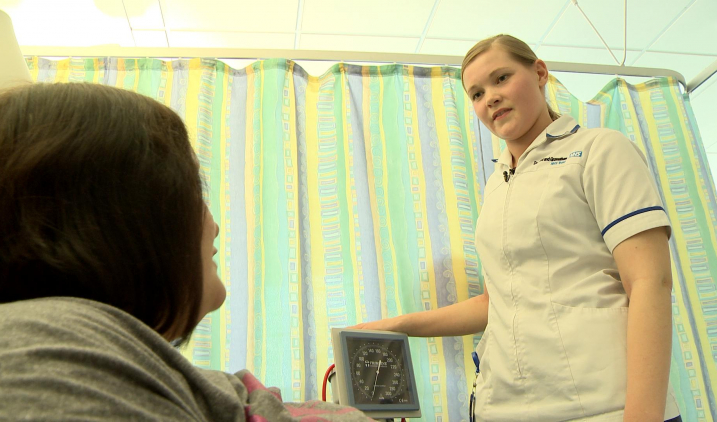 Working in a donor centre, you'll:
welcome donors
reassure and explain procedures to donors, where necessary
take details from donors and enter them on a database
check the blood of new donors
help with screening of donors, by asking questions about their health
collect and store blood 
provide refreshments for donors while they rest after giving blood
make sure donors are well enough to leave
thank donors and encourage them to return
Although donors are volunteers, some may be nervous about the procedure especially if they have not given blood before. They may be upset if they find they cannot give blood for any reason. Customer care is an important part of the job.
Some donor carers are based in clinics. Most, however, work in mobile units going out into the community to a different location each day. Some donor carers may drive the team vehicle.
As well as and doctors and nurses, donor carers work with healthcare and healthcare science professionals and other members of the wider healthcare team. They have a lot of contact with the public.
Entry requirements 
There are no set entry requirements to become a donor carer. Employers expect good literacy and numeracy and may ask for GCSEs or equivalent.
Customer care skills are as important as qualifications. Employers may ask for relevant work experience. Even where this is not specified, it would be an advantage if you have customer service or healthcare experience - either paid or voluntary. You may need a driving licence.
Find out more about gaining experience
Skills and personal characteristics needed
As a donor carer, you'll need to be: 
willing to work with blood and blood products
friendly and welcoming
able to reassure people who are nervous
able to explain procedures
careful and methodical
flexible and adaptable
physically fit to move and set up equipment
good at working in a team
able to follow instructions and procedures carefully
You'll also need
very good communication skills
good customer care skills
IT skills
organisation skills
Training and development
You will be given the training you need to do the job, including how to set up and use the equipment and how to take samples and donations of blood. Donor carers may enter through a health and social care (care pathway) apprenticeship at level 2 or 3.
Pay and conditions

Expand / Collapse

Donor carers work standard hours of around 37.5 a week. Some may work evenings and weekends. You'll move around between locations to collect blood, as part of a team. In the NHS, you'll typically be on Agenda for Change (AfC) band 3.

Where the role can lead

Expand / Collapse

With experience, you could become a donor care supervisor, overseeing the work of donor carers, organising rotas, etc. You could then become a manager, responsible for donor sessions and staff across an area.

You may be able to move into other wider health care roles such as clerk, health records staff or healthcare assistant. You could apply to train for other roles including assistant practitioner or nurse.

Job market and vacancies

Expand / Collapse

Most NHS trusts advertise their vacancies on NHS Jobs. Some advertise on their own websites. You can find a list of NHS organisations on NHS Choices.

Some vacancies may be advertised locally.

If you're applying for a role either directly in the NHS or in an organisation that provides NHS services, you'll be asked to show how you think the NHS values apply in your everyday work.

Further information

Expand / Collapse
Other roles that may interest you