Trauma and orthopaedic surgery
Trauma and orthopaedic (T&O) surgeons diagnose and treat conditions of the musculoskeletal system including bones and joints and structures that enable movement such as ligaments, tendons, muscles and nerves. 
You'll work with patients of all ages, often in a district general hospital or possibly in specialist centres or orthopaedic hospitals.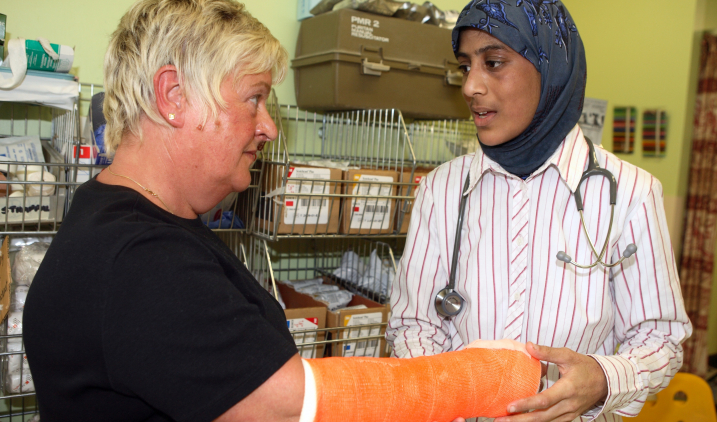 Life as a trauma and orthopaedic surgeon 
You'll spend around 40% of your time in surgery and the rest in outpatient clinics, the emergency department and assessing/monitoring patients before and after surgery. This is a rewarding specialty where your work can bring rapid relief from pain and discomfort for patients. 
You'll work on trauma to the musculoskeletal system, such as broken, fractured or dislocated bones and soft tissue injuries. These could be caused by anything from a low energy fracture in an older patient to multiple injuries caused by a road traffic accident. 
Your orthopaedic work will include the replacement of whole joints such as knees and hips following damage due to osteoarthritis or rheumatoid arthritis. You'll also treat congenital and degenerative conditions of the musculoskeletal system, often in babies and children, as well as infections and tumours.  
Your surgical work is specialised and varied. Some operations are very quick, for example a spinal injection, whereas other operations, to stabilise someone's neck or straighten a spine, may take several hours. You could work as part of a trauma team alongside emergency department doctors, anaesthetists, general surgeons and specialist nurses. You'll also work independently.  
You will use the latest technologies such as minimally invasive techniques for diagnosis and surgery and computer-aided navigation during surgery which enables 3D mapping of a joint. This is exciting for you and highly beneficial for your patients with reduced scarring and recovery time. 
You can expect to be on-call for trauma emergencies and to sometimes work out-of-hours on long surgical procedures, more so than in some other surgical specialties.  
How much can I earn? 
You'll first earn a salary when you start your foundation training after medical school. The basic salary ranges from £29,384 to £34,012. Once you start your specialty training as a trauma and orthopaedic surgeon employed by the NHS, you can expect to earn a salary of at least £40,257, which can increase to between £84,559 and £114,003 as a consultant. 
How about the benefits? 
make a difference 
flexible and part-time working 
high income early in your career   
work anywhere in the world   
excellent pension scheme 
good holiday entitlement 
NHS discounts in shops and restaurants 
Must-have skills 
excellent communication skills to manage a wide range of relationships with colleagues, and patients and their families  
emotional resilience, a calm temperament and the ability to work well under pressure  
teamwork and the capacity to lead multidisciplinary teams  
problem-solving and diagnostic skills  
outstanding organisational ability and effective decision-making skills  
first-class time and resource management for the benefit of patients  
a high degree of manual dexterity  
superb hand-eye co-ordination, excellent vision, and visuospatial awareness  
physical stamina to cope with the demands of surgery  
Entry requirements 
Your first step is medical school. Typically, you'll need excellent GCSEs and three A or A* passes at A level including chemistry for a five-year undergraduate degree in medicine. Many medical schools also ask for biology and others may require maths or physics.   
If you already have a degree, you could study for a four-year postgraduate degree in medicine.  
You'll need to pass an interview and admissions test. You'll be asked to show how you demonstrate the NHS values such as compassion and respect.  
Some medical schools look to recruit a mix of students from different backgrounds and geographical areas, so your educational and economic background and family circumstances could be considered as part of your application. 
"It was a placement in a children's hospital towards the end of my specialist training that made me decide on paediatric T&O as my sub-specialty. I immediately loved the warm and welcoming atmosphere in the hospital, and working with children."
What are my chances of starting a career in trauma and orthopaedics? 
In 2020 there were 715 applications for 125 specialty training places, (a competition ratio of 5.72). There are currently 2,654 trauma and orthopaedic surgeons working in the NHS in England.  
How to become a trauma and orthopaedic surgeon 
After medical school, you'll join the paid two-year foundation programme where you'll work in six placements in different settings.  
After your foundation programme, you can apply for paid specialty training to become a trauma and orthopaedic surgeon, which will take a minimum of six years. 
You may be able to train part time, for example for health reasons or if you have family or caring responsibilities.  
Where a career in trauma and orthopaedics can take you 
You could:  
specialise or conduct research in areas such a particular part of the body for example shoulder/elbow, joint reconstruction such as hip or knee, paediatric surgery, sports injury or complex trauma surgery 
teach medical students or postgraduate students in training  
get involved in research at universities, the NHS or private sector
Other roles that may interest you