Gastroenterology
Gastroenterologists are doctors who investigate, diagnose, treat and prevent all gastrointestinal (stomach and intestines) and hepatological (liver, gallbladder, biliary tree and pancreas) diseases.
This page provides useful information on the nature of the work, the common procedures/interventions, sub-specialties and other roles that may interest you.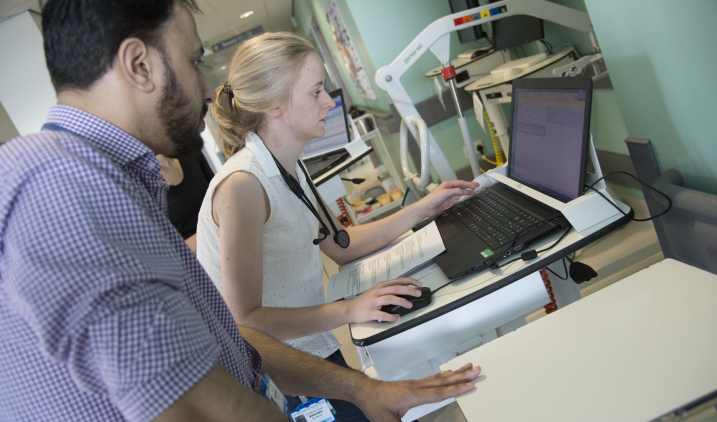 Nature of the work
Trained gastroenterologists develop and run endoscopy services for diagnostic, therapeutic and screening endoscopy.
 All specialists are competent at upper gastrointestinal (GI) endoscopy and some will have had additional training in hepatobiliary endoscopy. Most will participate in acute gastroenterology admissions and manage a broad range of gastrointestinal disease, either in outpatients or following admission.
Gastroenterologists treat conditions such as:
gastrointestinal bleeding
gastrointestinal cancer
anaemia – a condition where the haemoglobin the blood (a pigment that carries osygen) is below normal levels
inflammatory bowel disease, eg Crohn's disease (inflammation of the lining of the digestive system), ulcerative colitis (inflammation and ulceration of the lining of the rectum and colon)
short bowel syndrome
jaundice – a condition where the skin yellows due to an acculumation of bilirubin the blood and tissues
management of alcoholic, viral hepatitis (Inflammation of the liver caused by a virus) and autoimmune liver disorders (where the body attacks its own cells)
diverticulitis - inflammation of the diverticula (small pouches) in the intestine
gastroenteritis
hepatitis
Common procedures/interventions
These include:
upper and lower gastrointestinal endoscopy
endoscopic retrograde cholangiopancreatography (ERCP) – an endoscopic technique mainly used to diagnose and treat bile duct and pancreatic duct conditions
endoscopic ultrasound (EUS)
intestinal and liver biopsy
paracentesis (puncture of the wall of a cavity using a hollow needle and insertion of parenteral nutrition line (intravenous feedling lines)
planning and aftercare of patients undergoing liver transplant
Sub-specialties
The CCT sub-specialty is:
Many gastroenterologists develop sub-specialty interests such as:
hepatology (diseases of the liver)
pancreaticobiliary disease with endoscopic retrograde cholangiopancreatography (ERCP)
inflammatory bowel disease
functional bowel disease
tropical diseases
gastrointestinal cancer and its prevention
endoscopic surveillance
reflux oesophagitis (inflammation of the oesophagus)
pancreatic disease
transplantation
medicolegal issues in medicine
clinical pharmacology
inherited cancer syndromes
clinical nutrition
Want to learn more?
Find out more about:
Other roles that may interest you